By incorporating digital technology into your activity, you are embarking on an adventure where you:

Explore innovative collaborative models;

Become proficient with state-of-the-art creative and broadcasting tools; and

Develop your audiences and clientele.
Looking for inspiration? Take a look at our catalogue! (available soon)
Designed specially for Journées de la culture activity organizers, this catalogue contains turnkey activities combining culture and technology, provided by organizations and professional artists from across Quebec. All you have to do is choose from our selection!
Obtain better support through digital technology
The Bell Digital Component now provides support for all organizers to help them put on their activities, whether digital or non-digital. Take advantage of this active creative support and develop your skills in the areas of innovation, agility and co-creation.
Soon to be released is an interactive program that includes a series of learning experiences, workshops, tools and webinars. You will also have access to exclusive content by becoming a production partner!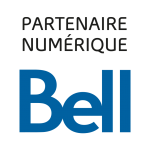 Come out and discover all the digital tech activities!